Customizing your car's interior is a great way to revamp an older vehicle or add a few awesome automotive accessories to liven it up!
There are so many options out there that it is tough to choose what to buy and how to customize. To help you get started, here's 7 cool ways to customize your car.
Where Should You Start?
Before even looking at ways to customize your car interior, you need to consider your lifestyle, what you like to do, and your needs as a driver.
I am not saying you need to go on a journey of self-actualization here. Just jot down a few things about yourself, what you like to do, and what you use your car for. By doing this, you will actually be helping yourself find the right ways to customize your car interior that'll not only look awesome, but make you happy too! Remember, your car is an extension of you.
Not only is it an extension of you, let's face it, you probably spend a lot of time in it too! This brings us to the other part of customizing your car. Not all customizations are there to show off your style, they can enhance your overall driving experience too.
Time to Customize! 7 Cool Things to Do to Your Car Interior
1) Custom Floor Mats to 'Mat-ch' Your Personal Style
You can pretty much find a floor mat with anything you want on it.
Favorite sports team? Yup! DC Comics or Marvel lover? You bet! They even sell them at Home Depot. Totally into RealTree Camo, Moonshine or Muddy Girl Camo? Well, there's plenty of online stores to choose from out there. 
When it comes to custom floor mats, the world is your oyster. Start by searching "floor mats for" and fill in the blank with what customization you're looking for.
Amazon is a great online shopping option for finding the perfect floor mats for your car.
2) Fun With Steering Wheel Covers
Another fun and cool way to customize your car is adding a steering wheel cover that suits both your style and needs as a driver.
What do I mean by needs? There are benefits to having certain types of steering wheel covers. There are tons of practical reasons why steering wheels covers are an awesome addition to your car's interior. For instance, the Lemonbest cover that is great for grip and breathability.
There's also other practical purposes for them, like Sheepskin steering wheel covers that offer comfort and protection your hands from both cold and hot weather.
But there's also so many fun patterns and designs out there to choose from. Most sites have pre-designed covers that add to the customization of your car. Other sites actually let you personalize your steering wheel cover from start to finish.
This is also how you can make your car look sporty too because there are awesome steering wheel covers out there that look like ones you'd find in race cars. Vroom vroom!
3) Be Cool (Literally) With Mini Fridge in Your Car
Okay, so this may seem crazy to some, but when you think about it, why not have a mini fridge in your car? For those that drive around all day, it means you have nice refreshing beverages and you keep your lunch fresh!  
Also, great for Uber drivers too! You'll always have cold water to offer your passengers.
This type of automotive addition is a super cool way of customizing your car's interior in the most literal sense. You're likely aren't a fridge expert. Don't worry though, there a tons of resources out there that'll guide you to the perfect mini fridge for your car! BestRefridgerator has a great Top 5 list worth checking out.
4) Custom Sun Visors Because Why Not?
I'm not talking about those visors people wear that make me question their fashion sense. But I am sure there are tons of websites out there where you can customize one. Don't know why you'd want to…
Anyways, moving on. I am talking about customizing your car's sun visors. What fun! There are even websites that'll let you personalize it to your liking. For those interested in decking out their car all in pink, you're in luck because websites like that exist. Start Googling and you'll find all the pink accessories you need to customize your car's interior.
For the Camo lovers, there is also a few online stores dedicated to Camo, fulfilling all your Camo desires when customizing your car's interior. Camo sun visors are just the beginning of the cool things you can do with your car.
5) Make It Your Own With Custom Seat Covers
There are tons of online stores out there that sell seat covers with custom patterns and designs. Some websites sell universal seat covers, others sell custom fit seat covers tailored to your vehicle. While in the case of a custom steering wheel cover or sun visor,, ordering a universal product will likely still look great and fit. This is not always the case for seat covers.
Universal seat covers may not fit your seats well at all. Also, they may not be compatible with safety features in your seat like Side Impact Airbags. So before you hit that "Order Now" button, make sure the seat covers are suitable for your car. If you order custom fit seat covers, alterations can be done to ensure safety features are fully functional.
Alright, serious stuff aside. Let's get to the part where you get to choose a set of custom fit seat covers that'll really make your car 'pop'. Seat covers are an easy way how to make your car look new.
A few popular options are Neo-Supreme for that sporty look, Sheepskin or Imitation Leather for that luxurious look, and Hawaiian seat covers for a bit of fun in the sun! Camo seat covers are available, as well. You can select rugged materials like Cordura, Saddle Blanket, and others that are great for drivers who want to upgrade their interior, but need something very durable and protective. 
If you loved the Kryptek seat covers as seen in the first image, you can also order them online too!
Customizing your car with seat covers is like revamping your wardrobe. You get to choose materials you like, patterns you like, and colors you like. Completely customizable to suit your sense of style.
6) Custom Pockets to Organize The Heck Out of Your Car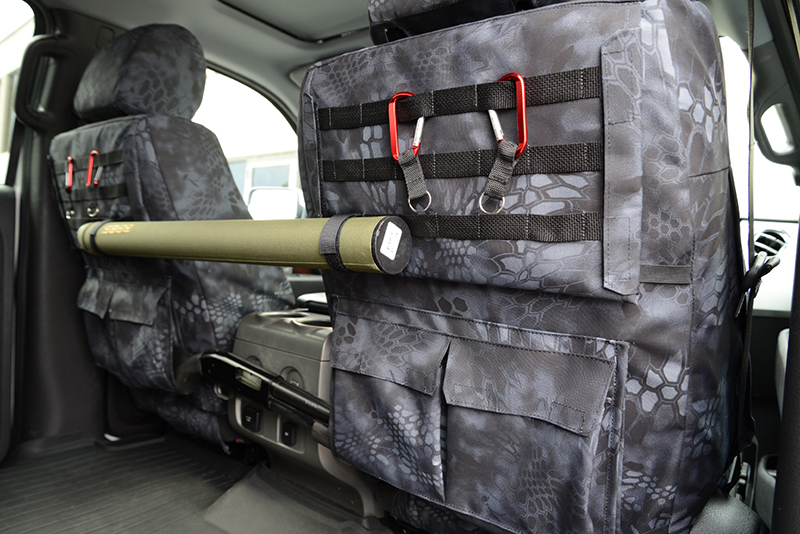 This is a cool add-on to customize your seats and the interior of your car even more! The Special OPS (Outdoor Pocket System) is a fantastic way to organize and store all sorts of gear. Whether you're a fisher, a construction worker, or a hunter, you can stash your fishing rods, tools, and rifles in these handy dandy pouches. There's also a nifty pistol pocket to safely store handguns.
These organizational pockets can be added when you're ordering custom seat covers as well. There are luxury seat cover lines you can find online that offer the Special OPS Package as a simple accessory add-on when you order with them — making it super easy!
The OPS packages also come in custom colors and patterns to boot!
7) Get a Sweet Sound System  
For the music lovers out there and for those who love to belt it out while they drive. Don't worry, no judgment here.
This type of automotive upgrade requires a decent amount of effort in finding a suitable, quality sound system that stays within your budget. While we'd all like to be able to afford that expensive Bose Automotive Sound System, the reality is that it might break the bank.
Okay, so what do you do when you want to customize your car by getting an awesome sound system for a decent price. Google is your best friend here. Search for the 'best affordable car sound systems for your car'. You will find endless results of lists where experts have done the research for you. Check out LifeWIre.com and their article, The Best Car Sound Systems for under $200.
Having a sweet sound system and not paying a fortune for it makes you cool in my books.
Depending on how much you want to customize your car's interior, you can select a few of these automotive accessories and upgrades. Or if you're gung-ho, go ahead and use all of these cool ways to customize your car. Show off your sense of personality and lifestyle!
Do you have another other cool car interior ideas?